Corporate TealLock Spanish Plus
5.62
Programa de bloqueo automático y seguro con encriptación de datos opcional y números opciones de activación y adecuación a la medida.
Corporate TealLock Spanish Plus Publisher's Description
Corporate Security and Encryption: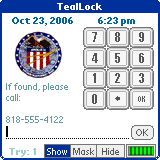 Unmatched Security
A secure automatic locking program, Corporate TealLock fortifies Palm OS security with additional layers of protection and the most functionality available--technology so powerful it was adopted by Palm as standard equipment on Tungsten C and Tungsten T2 handhelds.
Security features include serial and infrared lockout, 128-bit data encryption for both memory and external SD/MS/CF cards, and optional data self-destruct modes to deter brute force attacks.
This corporate edition includes administrator password and controls, installation tools, and an exclusive remote unlocking feature.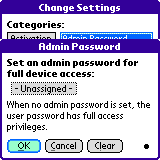 Feature Highlights:

Administrator passkey
Auto device locking
Auto hiding of private records
128-bit data encryption
128-bit SD card encryption
Expiring passwords
Passwords length/number controls
Industry-standard MD5 Hash
Serial/HotSync/IR lockout
Quick-Entry password
Data Self-Destruct and "Booby trap" mode
Bulk unit installation
PalmOS 5 compatible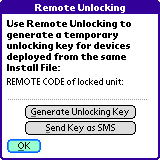 Versatile Configuration Options
Numerous configuration and activation options include timed activation, custom locking screen, graffiti shortcuts, hardware button passkey entry, masked passwords, on-screen keypads, lock screen images, animated backgrounds, time and date display, and both quick and guest passwords. TealLock is PalmOS 5 compatible, and is an ideal part of a health care organization's HIPAA compliance program.

- Customizable -
Because the program has so many ways to customize the security of the device, TealLock makes the lockout feature of the Palm a practical security tool for keeping unauthorized users out.
Laptop Magazine
- Finalist -
Best Enterprise Security Application finalist, Handheld Computing's Awards
Handheld Computing Magazine
- Rolls Royce -
The 'Rolls Royce' of locking solutions.
PalmUser magazine

BONUS: A special for Handango, this enhanced bundle includes TealPoint VersionMaster for PalmOS. A $10 value, VersionMaster effortlessly tracks all your TealPoint applications, finding, downloading and installing new updates, when available.

A leading provider of software solutions for handheld devices, TealPoint Software currently offers 27+ productivity products for the PalmOS platform. Selections include TealDoc, the superior document reader, TealMovie, the award-winning multimedia player, TealAuto, the complete vehicle service and expense log, TealPhone, the replacement address book, and TealLock the definitive PalmOS security solution.


Take advantage of TealPoint's Free 30-Day Trial Policy on all products.
Look for Similar Items by Category
Feedback